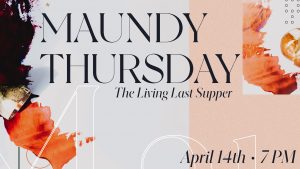 Living Last Supper
April 14 - 7pm
"The Living Last Supper" where Leonardo DaVinci"s painting speaks. We will also serve Holy Communion.  in the gym(CLC).
Good Friday / Tenebrae
April 15 - 7pm
In the Sanctuary.
       Tenebrae Service – the service of darkness remembering the Crucifixion of Jesus. 
(Children's Tenebrae Service at Welcome center) 
Sonrise Service
April 17 - 7am
At the Higher Ground Lawn. bring your own lawn chair!
Sanctuary Service
9:30am & 11:00am
Higher Ground Service
11:00am
Hispanic Chapel Service
11:00am