"Become a House of Prayer led by the Holy Spirit"
 I want to share our strategy for becoming a prayer-centered church.
We will host a church-wide Prayer Summit on February 25th and 26th. We will learn a form of prayer called "Worship-Based Prayer". This empowers us to enter deeply in to the presence of God and hear from the Holy Spirit. This is an exciting and special time for our church!
We will have 4 key components to the
Prayer Summit Movement:
1. A two day event on February 25th and 26th 
2. Sermon series on the Power of Prayer in the month of February
3. Studying of the book Fresh Encounters (Small groups, Sunday School classes, individual study)
4. Prayer Meetings on Wednesday evenings in person and Friday mornings by Zoom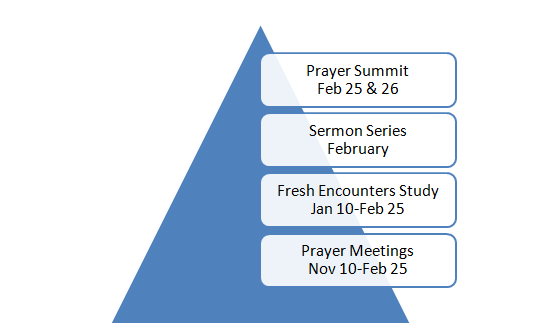 Small Group Leaders and Sunday School Classes
This is to invite you and your class or group to participate in the McEachern Prayer Summit.  Our goal is to become a House of Prayer that is led by the Holy Spirit.  This is the foundational step to growing our church… growth in spirit and in number.  A critical portion of the Prayer Summit is to have as many people in our congregation as possible study the book: Fresh Encounters.  This is a six week study, thus we suggest you begin the week of January 10th so that you will be finished by February 25th.