Join a Prayer Study Group as we prepare for the Prayer Summit!
You can join any of our Sunday School classes (meet on Sunday mornings) or small groups (meet throughout the week) that are doing the Prayer Study. Most are starting either January 16th or January 23rd. You can jump in with them when you are available. Simply contact the leader listed. Do not let your schedule deter you from joining a group! If you have any questions, give me a call, text or email and I would be happy to get you plugged into a class or group. Tony Phillips 404.915.1471, tphillips@144.202.29.190
These are the classes/groups doing the prayer study between now and Feb 25th.
If you are an individual looking for a Prayer Study Group, click here for a list of Sunday School classes and Small Groups that you can join for this powerful 5 week study leading up to the Prayer Summit.

Sunday School Classes:
Came to Believe (Barry Walsh) 9:30am F326
Searchlights (Pam Dischinger) 11am F147
Choices: (Russ Blocksidge) 9:30am F319
Journey: (Derek Price)
Horizon: (Rick Glover) 9:30am F316
Focus: (David Robison) Virtual
New Friendship: (Anne Smith) 9:30am F322
Dig Deeper: (Kaye O'Neal) 11am Virtual
Small Groups: 
Dr. Doug Thrasher, Wednesdays 10am Oaks Hall
Rev. Cindy Blocksidge, Tuesdays 6:30pm, room F316
Rev. Bomi Kim, Tuesdays, 6:30pm, CLC
Rev. Tony Phillips, Wednesdays, 6pm room F326
Steve Barnes Tuesdays, 7pm room F322
Youth Group (Raquel Terrel-Lovett), Sundays, 9:30am / Wednesdays 6pm Youth Suite
"Become a House of Prayer led by the Holy Spirit"
 I want to share our strategy for becoming a prayer-centered church.
We will host a church-wide Prayer Summit on February 25th and 26th. We will learn a form of prayer called "Worship-Based Prayer". This empowers us to enter deeply in to the presence of God and hear from the Holy Spirit. This is an exciting and special time for our church!
Recently, author Daniel Henderson has updated the content in Fresh Encounters and changed the title to Transforming Prayer. Fresh Encounters is now out of print, but Transforming Prayer is readily available. Either book is a great option to study in preparation for the Prayer Summit.
We will have 4 key components to the
Prayer Summit Movement:
1. A two day event on February 25th and 26th 
2. Sermon series on the Power of Prayer in the month of February
3. Studying of the book Transforming Prayer (Small groups, Sunday School classes, individual study)
4. Prayer Meetings on Wednesday evenings in person and Friday mornings by Zoom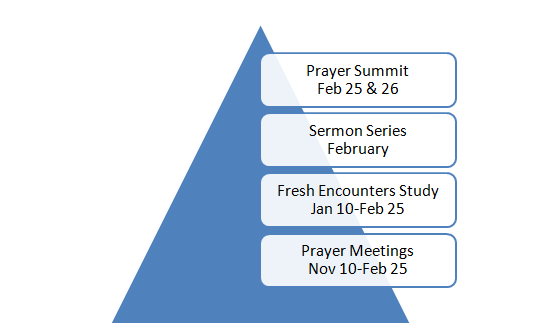 Small Group Leaders and Sunday School Classes
This is to invite you and your class or group to participate in the McEachern Prayer Summit.  Our goal is to become a House of Prayer that is led by the Holy Spirit.  This is the foundational step to growing our church… growth in spirit and in number.  A critical portion of the Prayer Summit is to have as many people in our congregation as possible study the books: Transforming Prayer or Fresh Encounters.  This is a fiveweek study, thus we suggest you begin the week of January 10th so that you will be finished by February 25th. T
Our Guest Speaker
Rev. Paul Lawler
Paul Lawler is a husband, father, teacher, pastor, and church planter.  He began serving as the Senior Pastor of Christ Church Birmingham in June of 2007.  Prior to serving Christ Church, Paul was the founding Pastor of a church plant he served for 16 years in Huntsville, Alabama.  He often speaks at conferences and events and has taught in locations ranging from Ocean Grove Camp in New Jersey to the Upper Room Chapel in Nashville to Dave Ramsey's employees at Ramsey Solutions.  He is a graduate of Asbury University, and Asbury Theological Seminary.  He has led local churches to engage in planting hundreds of new churches on four different continents.  Paul and his brother, Dallas businessman, Patrick Lawler, worked with the Compassionate Hope Foundation in founding and establishing two Patricia B. Hammonds Homes of Hope for orphans in Thailand. He is also President of the North Alabama Wesleyan Covenant Association.  Paul and Missy have four children and one daughter in law.  As an ordained pastor in the United Methodist Church, UMs in North Alabama honored Paul by awarding him the Denman Evangelism Award for his servant-leadership in reaching new people for Jesus Christ.  In his spare time, he enjoys family time, hiking, writing, reading, and a well brewed cup of coffee.