Certified as a North Georgia Program of Excellence
"Grow in the grace and knowledge of our savior Jesus Christ.
To Him be the glory both now and forever."
2 Peter 3:18
Our warmest welcome to you from everyone at McEachern Weekday Preschool Program. We join together with prayerful hearts to create an educational experience that has been unique throughout the thirty plus years of this school.
From the beginning, our school has used the timeless philosophy of teaching the whole child. McEachern offers classes with age appropriate activities that encourage creativity and allow children to grow as individuals.
Our goal of building a positive attitude toward learning builds each child's self esteem. We want each child who comes through our doors to feel that he or she is loved and is a special gift from God.
Please call the preschool office at 770.439.7110 for more information or to schedule a tour.
Denise Ribeiro
Director, Preschool & Kindergarten
dribeiro@mceachernumc.org
770-943-3008 x5008
Aimee Thurmond
Administrative Assistant
athurmond@mceachernumc.org
770-943-3008 x6005
Tara Sammons
Administrative Assistant
tsammons@mceachernumc.org
770-943-3008 x6005
Preschool Office
Monday-Friday, 8:00am-2:00pm
770-439-7110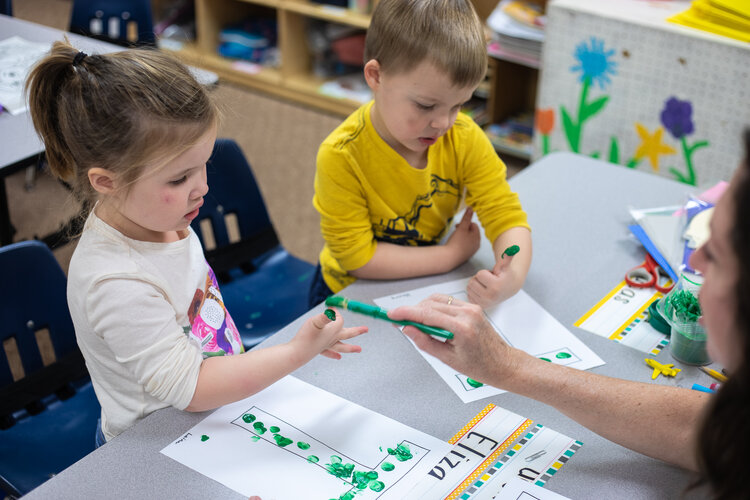 Our curriculum is teacher generated using a variety of early childhood resources based on the concept that children learn from hands-on, creative experiences in their environment. Through our thematic units of study, we focus on language arts, phonics, pre-math skills, social studies, science, art, music and both large and fine motor skills.
Each class incorporates a Bible theme and activities. Chapel is held for 3's, 4's and Kindergarten.
STEAM (Science, Technology, Engineering, Art, and Math) Class is held weekly for 4s and Kindergarten classes.
Music Class is held weekly for 2s, 3s, 4s, and Kindergarten.
Chapel is held monthly for 3s, 4s, and Kindergarten. Bible lessons are completed weekly in all classes.
We believe in the developmental approach to early childhood education, focusing on the "whole child" and creating an environment that is nurturing and loving with opportunities for children to grow as individuals. We consider it a great privilege to be able to share the love of Christ with our preschool children.
We love seeing the joy and wonder in each child's eyes as they learn, create and experience the world around them.. Our teachers and assistants meet the guidelines and expectations set by the North Georgia Preschool Association.
These guidelines include education and health requirements as well as training and certification in CPR/first aid and "Safe Sanctuary Abuse Prevention Training". Extensive background checks are performed for each staff person. In order to promote the development of young children, our staff members participate in ongoing continuing education and appropriate training.